If you're thinking about selling your house, you may have heard about the housing market slowing down in recent months.  While it's still a sellers' market, the peak frenzy the market saw over the past two years has cooled some.
If you're asking yourself if you've missed your chance to sell your house and make a move, the good news is you haven't – motivated buyers are still out there.  But you do need to price your house right for today's market.
Here's why.  As Lawrence Yun, Chief Economist at the National Association of Realtors (NAR), says:
"Homes priced right are selling very quickly, but homes priced too high are deterring prospective buyers."
It's true buyer demand has slowed over the past few months as higher mortgage rates made it more expensive to buy a home.  The result is fewer bidding wars and less competition among buyers (see visual below):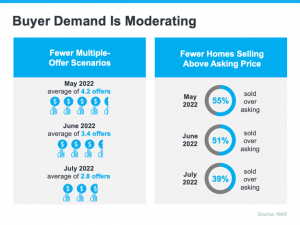 "Signs of a broader slowdown in the housing market are evident, . . . This is in line with our previous expectations and given the notable cooling of buyer demand due to higher mortgage rates. . . .
Nevertheless, buyers still remain interested, which is keeping the market competitive — particularly for attractive homes that are properly priced."
Here It Is…
While the housing market has cooled from its overheated frenzy, it's still a sellers' market.
There is a difference… that right realtor and agency makes a difference.  Let's Connect and I'll show you how.
Contact me at www.visitme.info | 201-800-2161 | Or via email victor.dejesus@randrealty.com